Ten-year-old Ebenezer Opambour has been rescued from the streets where he lived with his mentally challenged mom.
Before now, little Ebenezer used to pass the night together with other squatters at the under bridge of the Kwame Nkrumah interchange.
"I sleep under the overhead. My mother brought me from Sampa North in the Bono Region. But now I don't go to school", Ebenezer told Joy News when he was first found.
His situation got worse as city authorities stormed the area to clear illegal occupants on Wednesday. But all of that has begun to change.
After a Joy News report, his story will attract a lot of attention from the public with calls for him to be taken off the streets.
So on Friday, [August 13], with the help of a social welfare officer, the news team set off to do just that. After about an hour of searching, he was found. Son, in the bosom of mother. The two were inseparable.
Only a break could afford the team a real chance of rescuing the boy. Finally, after waiting for about another hour, that break came.
"My father is dead, so I want to go to my village at Sampa [North]", he said.
But as attached as he is to his mom, Eben will escape our grip and run back to her, insisting he will only come with us if she came too.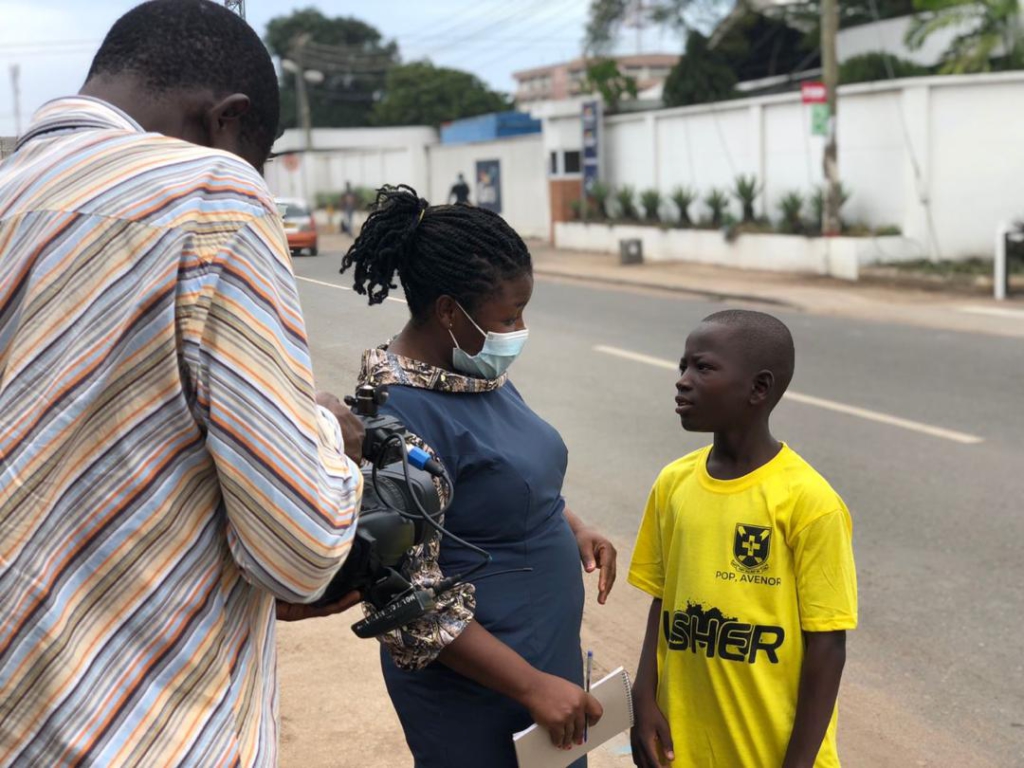 When asked if he'd like to be put in a home where he'd be given food, clothing, and other needs, he answered that "yes, but my mommy [must] know about it".
But according to the resident social welfare officer at the Accra Psychiatric Hospital, Regina Anyigba, there was no space for his mom, at least not immediately.
She explained that "due to the Covid-19, there is no bed available. But because the situation is dire, we are going back to the hospital to prepare a place for her right away. By Monday, we will come back with a rescue team together with the police and take her".
The aggression of Eben's mom made the rescue almost impossible. If Eben was to be rescued on Friday, then her mom's removal from the street could not wait either.
Five police officers from the Kaneshie District DOVVSU unit, a couple of bites on their hands, stiff pushback from Eben and his mom, and a road full of observers was what it took to separate the two. This was only after the agitated mother was handcuffed.
Then from the streets when the day began, little Eben ended the day in a new home, with a bed to himself and other kids to play and learn with, till he gets a permanent foster home.
He was received to the Great Mission International Home at Nungua amidst dancing and cheer from other kids at home.
The Director of the facility, John Nyavor, pledged to assist him to settle in starting with his new name "Ebenezer The Great".
Ebenezer's mom is getting some help too. She begins treatment for her condition in what is expected to be the beginning of a journey to recovery. But that is not the end.
With the boy in a temporary residential home and his mother on emergency admission at Accra Psychiatric Hospital, there is a push to secure some toiletries, clothes, food and cash to see the treatment through.
Like Eben, hundreds of kids are roaming the streets of Accra in search of warmth and support from a society that is constantly failing them.
In 2017, the Gender Ministry launched a campaign to end streetism in Ghana.
The programme dubbed "#Operation Get off the Streets for a Better Life" aimed to identify persons on the streets, profiling and integrating them with their parents, caregivers, families, and community in five years.
It was also to ensure that target groups are completely cleared from the streets.
The target groups included Kayayei, hawkers, children who are beggars, adult beggars, and those contracted to push physically challenged persons.
The rest are persons with disabilities, mental health problems, families on the streets, displaced persons (international migrants), and 'begging contractors'.
But four years after it was launched, the menace of streetism seems to have worsened, with various civil society groups calling for renewed efforts towards the agenda.
Source: myjoyonline.com