Barely 24 hours after being accused of shirking her responsibilities to the people of Dome Kwabenya and engaging in fanciful activities on social media, the MP for the area, Adwoa Safo has deactivated her TikTok account.
The account had about three videos of the Dome Kwabenya MP dancing and singing.
In two of her videos posted on September 29 and 30, 2021, respectively, she was singing along to some gospel songs one in her home and another in her car.
In one video, the Minister was seen in a red outfit dancing to KiDi's 'Say You Love Me' at what seemed to be a birthday party. The video was posted on October 1, 2021.
Her actions follow strong criticisms by her colleagues on the Majority side who said Adwoa Safo is sabotaging the government by not attending to the parliamentary and ministerial duties.
He accused her of showing off on the social media site instead of representing her people in the House.
However, this is not the first time an NPP member has made such allegations against Adwoa Safo for holding the government to ransom.
The rumours about her displeasure with the party notably started when her leave of absence as Gender Minister was extended from August 31, 2021, with no end date by the presidency.
Adwoa Safo impersonated?
Adwoa Safo later became the subject of public debate some months ago following allegations by the Minority that she was impersonated during Parliamentary proceedings on November 30, 2021, because the Majority side needed the numbers at all cost to approve the 2022 budget.
The controversy escalated when videos and photos of a woman believed to be an imposter at the proceedings in Parliament went viral on social media.
In the video, the woman was seen wearing a nose mask, leaving the chamber right after the headcount which led to the approval of the budget statement.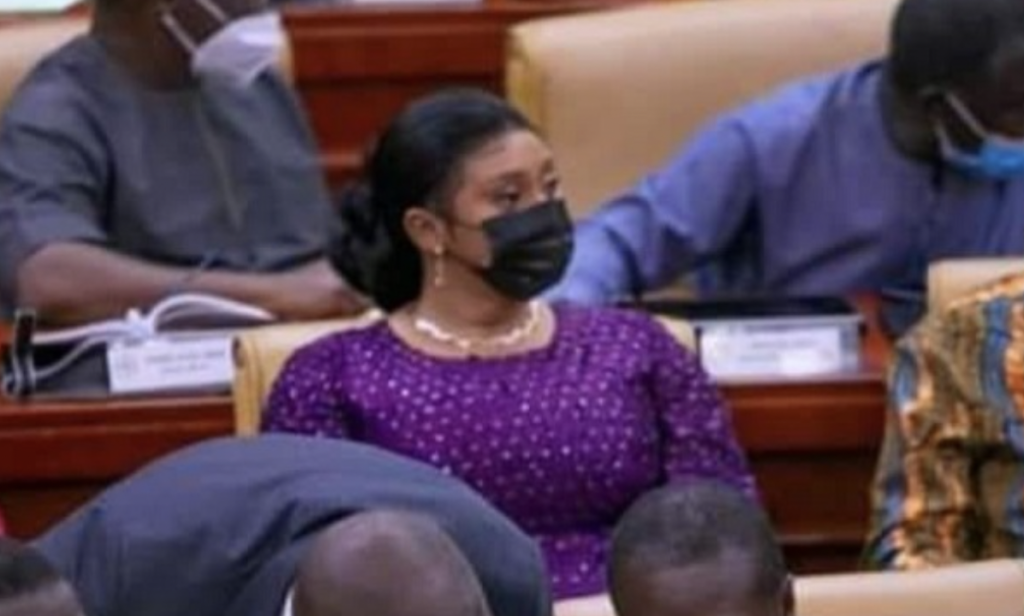 After the approval of the budget, she has failed to show up in Parliament since.
The Minority MPs say they are investigating a suspected case of impersonation.
According to the Minority MP for North Tongu, Samuel Okudzeto Ablakwa after reviewing footage of the sitting it was becoming apparent that there may have been a case of impersonation of the Dome Kwabenya MP.
Kwabenya MP holding Majority to ransom
Early this month, a livid New Juaben South MP, Michael Okyere Baafi, accused the Gender Minister of blackmailing the government.
According to him, the Dome-Kwabenya MP is using her seat as a bargaining chip to frustrate government business.
"All the problems the government is facing are attributable to Adwoa Safo. Clearly, her intention and posture show that she wants to sabotage NPP," he said in an interview on Kumasi-based Hello FM.
He revealed how they had to beg Miss Safo countless times to come to Parliament due to their limited numbers.
Meanwhile, the Africa Centre for Women In Politics (ACWP) has condemned the criticisms hurled against the MP.
Source: myjoyonline.com