What started as a mere petition to a mother has developed into a full-blown mobilisation point with many waiting patiently to see how it all unfolds at a school in Sakaman, Accra.
For many who had their basic education in Ghana, the concept of 'Our Day' may not be farfetched as some carried their favourite foods and beverages along to commemorate the end of an academic term.
In what is about to be one of the most sought-after celebrations of this conventional milestone, a Primary 3 pupil who sought to petition his mother about a list of items, is now the talk of the town.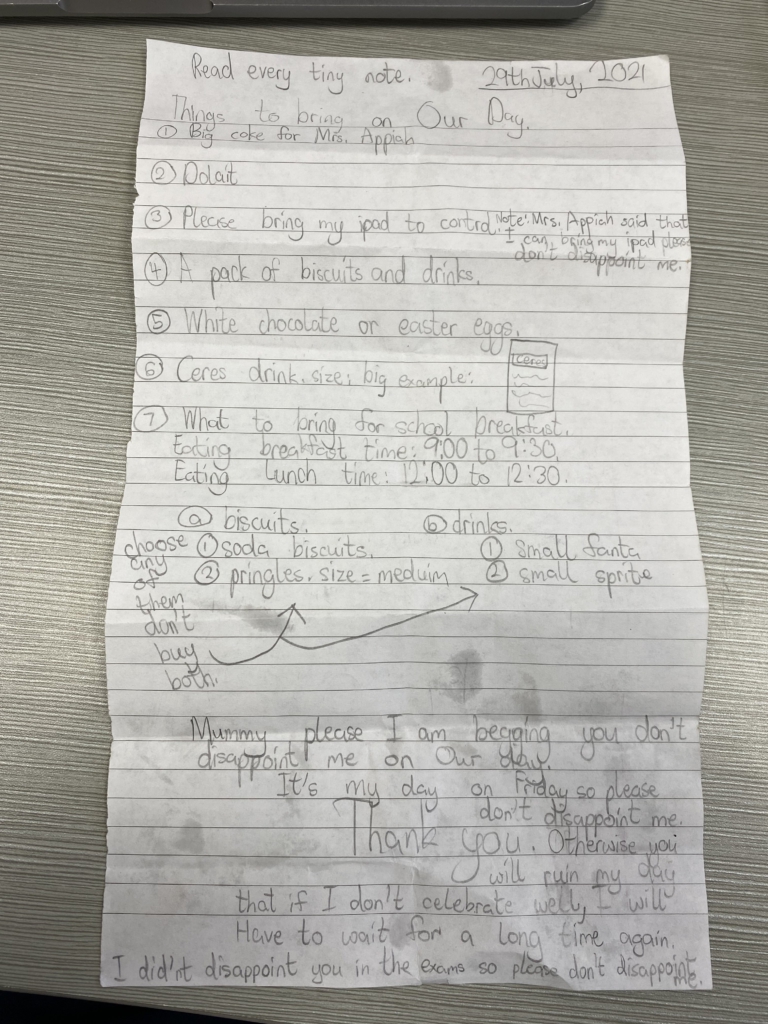 In what seems to be a passionate appeal to his mother in fulfilment of a commitment to pass his examinations, Oswald asked that she keeps her end of the bargain by providing his needs on the Friday beginning with a "big Coke for Mrs Appiah."
'Things to bring on Our Day,' was the title of the list written in pencil and dated July 29.
The items aptly detailed by the nine-year-old – with the aid of diagrams – included biscuits, drinks and a communication of a said waiver by his teacher to allow him to use his iPad device in class, just for the occasion.
The petition was first posted on Twitter by @SmylyThe3rd saying "Our Day instructions that my colleague's son gave to her. The emotional blackmail at the end."
The post has since gone viral with 'Our Day' garnering nearly 200,000 tweets alongside 'Mrs Appiah' believed to be the (favourite) teacher of the pupil also in Ghana's Twitter trends.
Where was the emotional blackmail? Wait for it.
"It's my day on Friday so please don't disappoint me. Otherwise, you will ruin my day that if I don't celebrate well, I will have to wait for a long time again. I didn't disappoint you in the exams so please don't disappoint me," he wrote.
Eventually, this triggered an uproar on social media including reactions from a demography that nobody saw coming as far as the regular online banter is concerned.
First off, award-winning musician KiDi pledged to light up the celebration with a performance for the children.
From nutrition lines, beverage brands to educational and financial packages among others, top companies across the country have expressed keen interest to ensure that the 'Our Day' goes beyond a day's event.
And the list goes on. His teacher, however, was not left out of the fray as memes flew around Mrs Appiah's reaction once her 'Big Coke' is delivered as she was prioritised by the petition.
As to whether she will still allow the boy to use his iPad in school after receiving the gesture remains a question to be answered on D-Day.
See you after the celebrations, because as tradition apparently demands, Joy FM also pledged its coverage of today's 'Our Day'.
Below are some more reactions.
Source: myjoyonline.com