The Electoral Commission (EC) has described as fake the a notice of poll circulating on social media platforms claiming to be related to the upcoming Kumawu by-election.
The notice, which has been widely shared purported to be an official announcement from the EC has the photos of two independent candidates, wearing kente cloth and the said candidates have the symbol of a bird.
However, the EC in a statement issued on Sunday clarified that no such notice has been issued by their office.
While categorically indicating that the story is untrue, EC urged the public to disregard it.
"For the information of the Public, both Independent Candidates presented photographs of
themselves in kente and a picture of a bird as their symbol to our District Officer in Kumawu.
Based on this, a draft Notice of Poll, bearing the photograph of the Independent Candidates with
similar names, attires and symbols was prepared and submitted to the Commission for approval.
"It was neither approved by the Commission nor gazetted. A notice of poll becomes legal and
binding only after it is gazetted. The version circulating on social media was never gazetted. It
was a mere draft reflecting the photographs and symbols presented to the District Officer," parts of the statement read.
The EC further noted that it had to apply the Public Elections Regulations and assign the second independent candidate a hoe as his symbol after he refused to heed advice to change his symbol.
"When this anomaly came to the notice of the Commission, the second Independent Candidate
was advised to change his symbol since he was the last to submit his Nomination Form. He
refused to do so causing the Commission to apply Regulation 14(1) (b) and (c) of the Public
Elections Regulations, 2020, C.I. 127."
The EC assured the public that they are actively investigating the origin of the fake notice and will take appropriate action against those responsible for its creation and dissemination.
They also reiterated their commitment to conducting free, fair, and transparent elections in Ghana and emphasized the importance of maintaining the integrity of the electoral process.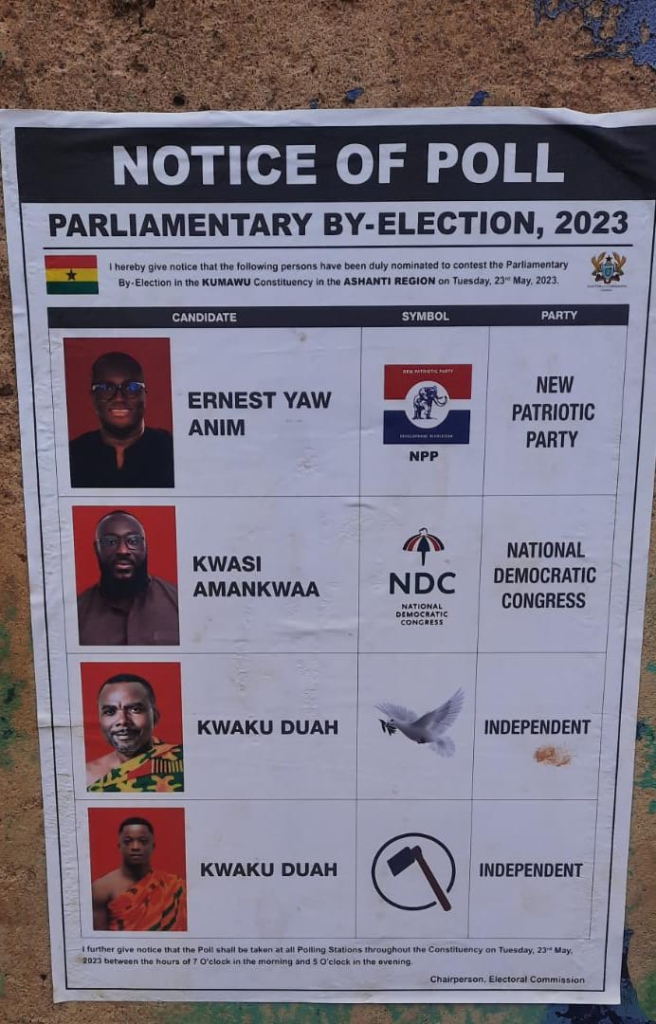 The Commission further urged the public to be vigilant and report any suspicious or misleading information related to elections to the appropriate authorities.
As the Kumawu by-election approaches, the EC reassured voters and stakeholders that they are fully prepared to organize a smooth and credible electoral process.
It emphasised their commitment to upholding democratic principles and ensuring that the will of the people is accurately reflected through legitimate and lawful means.
DISCLAIMER: The Views, Comments, Opinions, Contributions and Statements made by Readers and Contributors on this platform do not necessarily represent the views or policy of Multimedia Group Limited.
Source: myjoyonline.com