A recent Facebook post by the Dome-Kwabenya Member of Parliament (MP), Sarah Adwoa Safo, has left many asking questions over whether or not she is returning to the country.
Despite fierce public backlash against her absence from Parliament, the lawmaker shared photos of herself on a private jet looking very excited amid glowing smiles.
The Gender Minister captioned her Saturday post with a Bible quote from Psalm 23:5, which seemed to poke fun at her "enemies."
"You prepare a table before me, in the presence of my enemies. You anoint my head with oil; my cup runs over," she wrote.
Although the MP did not tell where she was headed, many have taken to the comment section to welcome her to Ghana.
The social media users, among other wishes, prayed for a safe journey and said they cannot wait to see her resume her duties at the Ministry and in the Dome-Kwabenya constituency.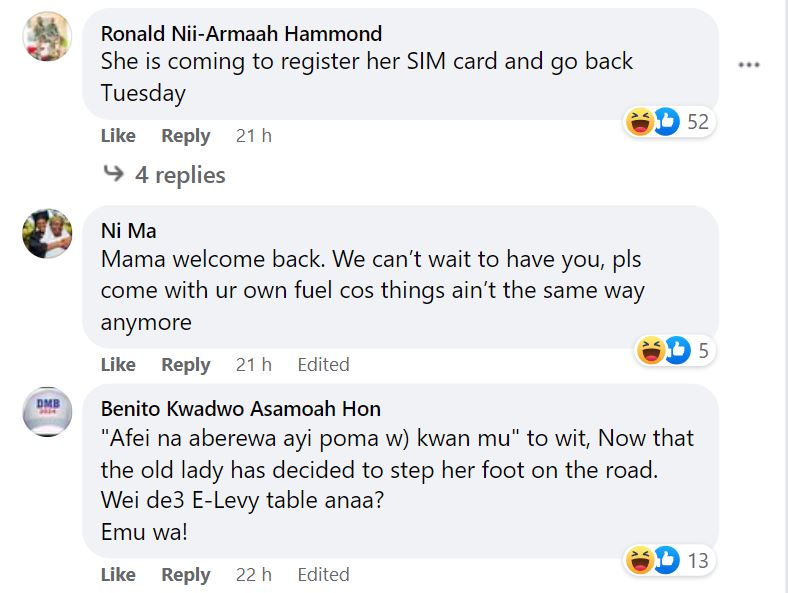 "Welcome home, my dearest honourable. May God strengthen you, may He let you overcome your enemies. Adwoa, we're coming to meet you at KIA with 'frontonfrom' and 'adowa' dance.
"Safe travel back, honourable. Who Jah bless, no one curse. Let's meet at the airport. I hope Taifa and Ashongman do not corrupt your beautiful, newly-acquired American accent – akwaaba," some Facebook users shared amid criticisms.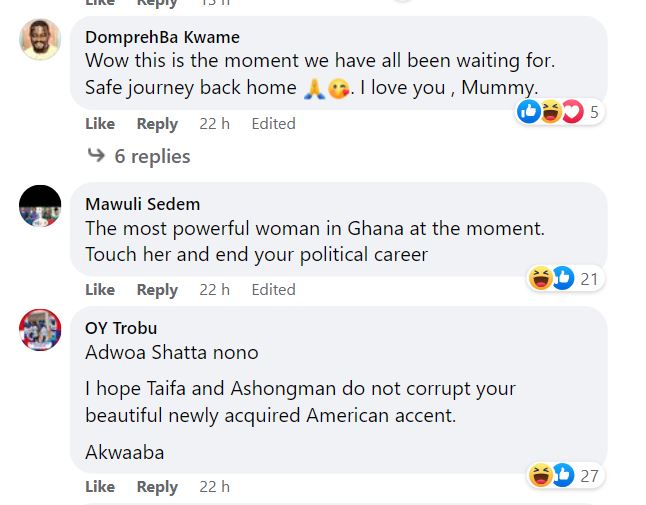 Others expressed disappointment in her prolonged absence from post and her seeming disregard for all Parliamentary invitations.
They pleaded with her to "kindly soften" her position and not continue to hold the country to ransom.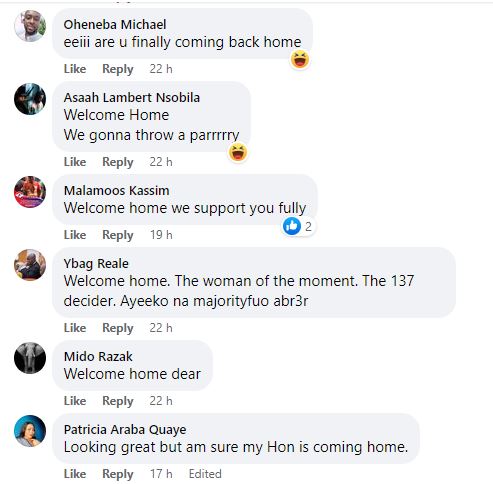 Political witch hunt
The legislator earlier opened up about the ordeal she is facing in the ruling New Patriotic Party (NPP).
According to her, she has become a victim of a sustained political witch hunt by certain elements in the NPP and in Parliament for their own parochial goals.
She expressed shock about how she is being treated differently by people, including members of her party for staying away from official duty in order to attend to personal issues involving her child.
She said she had sacrificed a lot including her family for NPP but she is now being described as a traitor, "and there are schemes to oust me from my position as MP and Minister."
"In the last few months that I have been away from official duties albeit not intentionally, I have become a victim of a sustained political witch hunt by certain elements in the NPP and in Parliament to achieve their own parochial goals. This has left me asking myself if this is happening because I am a woman who for just this one time needed some time off to deal with a few personal issues which were too dear to share with the larger publics.
"In the face of all these, I have questioned why I have had to be treated differently by not enjoying the famous support of our party leadership both in Parliament and at the party level in my most difficult moments these past few months," she wrote in a congratulatory message to newly-elected executives of the NPP on July 17.
Source: myjoyonline.com