The former CEO of the Northern Development Authority (NDA) has petitioned the Chief of Staff, Akosua Frema Osei-Opare, over a fraud issue involving him.
Dr Sulemana Anamzoya, in the petition, accused his successor, Sumaila Abdul Rahman, of fraudulently falsifying figures and forging his signature to cash in a ¢10,400,000 contract.
The two-page petition, which was copied to President Akufo-Addo, detailed how the Sumaila Abdul Rahman-led management committed the fraud in his name.
"Quite recently, my attention has been drawn to a contract purportedly signed by me whiles I was in office as Ag. Chief Executive Officer of the Northern Development Authority (NDA), awarding a Consultancy Service contract to A&Q's Consortium (A&Q's) in the sum of ¢10,400,000 under the Infrastructure for Poverty Eradication Programme (IPEP)," portions of the document sighted by JoyNews read.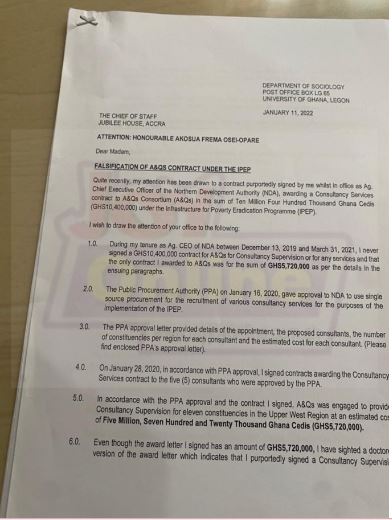 According to him, the only contract he awarded to A&Q's firm while in office was a sum of GH₵5,720,000.
In the petition, the former CEO noted that the Public Procurement Authority (PPA), on January 16, 2020 gave approval to NDA to use single-source procurement to recruit various consultancy services to implement the IPEP programme.
"The PPA approval letter provided details of the appointment, the proposed consultants, the number of constituencies per region for each consultant and the estimated cost per consultant (please find enclosed PPA's approval letter).
"On January 28, 2020, with PPA approval, I signed contracts awarding the consultancy services contract to the five consultants who were approved by the PPA," he said in the petition.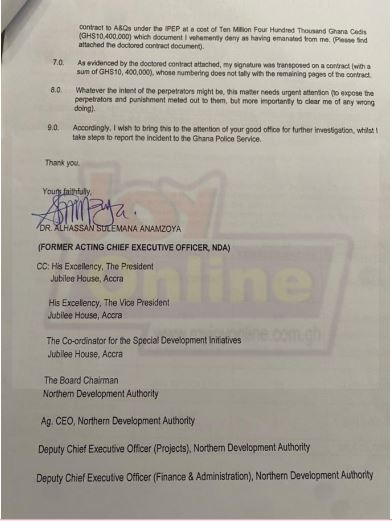 On the back of this, Dr Anamzoya said he engaged A&Qs to provide Consultancy Supervision for 11 constituencies in the Upper West Region at an estimated cost of ¢5,720,000.
"Even though the award letter I signed has an amount of ¢5,720,000, I have sighted a doctored version of the award letter which indicates that I purportedly signed a Consultancy Supervision Contract to A&Q's under the IPEP at the cost of ¢10,400,000 which I vehemently deny as having emanated from me (please find attached the doctored contract document).
"As evidenced by the doctored contract attached, my signature was transposed on a contract (with a sum of ¢10,400,000), whose numbering does not tally with the remaining pages of the contract."
The embattled CEO told the Chief of Staff and the President, "Whatever the perpetrators' intent might be, this matter needs urgent attention to expose the perpetrators and punishment meted out to them, but more importantly to clear me of any wrongdoing.
"Accordingly, I wish to bring this to your attention for your good office for further investigations, whilst I take steps to report the incident to the Ghana Police Service."
Source: myjoyonline.com