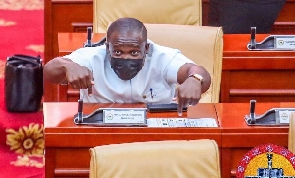 Member of Parliament for North Tongu, Samuel Okudzeto Ablakwa
Samuel Nartey George, a Member of Parliament for Ningo Prampram from the National Democratic Congress (NDC), has dared a Tema High Court judge over the exclusion of certain delegates from participating in the recently held parliamentary primaries in the constituency.
According to the MP, the judge exceeded his authority by ordering the inclusion of sixteen delegates in the voting register for the primaries. In response, Sam George challenges the High Court judge to cite him for contempt.
"Just before the election on Saturday, they go back to court, and I hear the judge doesn't hear the case in open court and calls the case into his chamber, and gives a directive that he instructing that those sixteen names should be added. And I said, well, I don't know what the judge ate or I don't know what he drank," he fumed during an interview on TV3 following last Saturday's closely contested election.
When the host of the program pointed out that the ruling came from a court of competent jurisdiction, the MP retorted, "So what… absolutely not, the judge has no power in a matter that was not brought before him, and I will bring a petition to the Chief Justice against that judge because he must be investigated for his conduct. Because a case is brought to you seeking an injunction on ward election and then you go in chamber to issue directives that people be added to a register for a parliamentary vote. Who brought a parliamentary primary before you? Who told you judges have the power to extend their judgment beyond what is before them? And so I said if he thinks he has those powers, he should cite everybody for contempt, but those people will not vote and they did not vote.
"If the judge thinks he is right, he should cite me for contempt and let's see. I am saying I will bring a petition against him to the Judicial Service and the Chief Justice to investigate him in this matter," Sam George added.
On May 13, 2023, Sam George emerged victorious in the NDC parliamentary candidate election for Ningo Prampram, defeating Kwettey Nettey in a closely contested race ahead of the 2024 general election.
The election, closely monitored across the country, was halted midway after Kwettey Nettey presented a court order requesting the inclusion of sixteen delegates in the voting process.
Sam George, on the other hand, maintained that the Functional Executive Committee (FEC) of the party had already ruled on the matter and decided against the inclusion of the said delegates in the voter register.
Eventually, the delegates in question were not allowed to vote, and Sam George secured victory with 1,036 votes, while his contender managed to secure 636 of the total votes cast.
GA/BOG